Super tasty scrambled egg – Not enough people can cook scrambled eggs so we thought we'd share this recipe from one of the greatest cooks who love eggs. In scrambled eggs the preferred proper ingredient is butter.
 Prep Time:     5 minutes
 Cook Time:    5 minutes
 Total Time:    10 minutes
Ingredients:
2 eggs lightly beaten
Salt and freshly milled black pepper
20g a knob of butter
A little crème fraiche or cream for a treat
Instructions:
First – the pan goes onto a medium heat.
Season the lightly beaten eggs with salt and pepper.
Add a heaped teaspoon of butter goes into the pan and swirl it around so the base and sides are moistened.
When it begins to melt and foam, pour in the eggs and start to stir.
As the eggs begin to cook keep on stirring, getting into the corners of the pan with the pointed end of the spoon.
Be patient and continue to scramble until three-quarters of the egg is a creamy solid mass. At this point remove the pan from the heat and add the remaining butter (about a teaspoon).
Add a hint of luxury with a little splash of cream or crème fraîche – or even smoked salmon flakes. The eggs will carry on cooking in the heat of the pan until there is no liquid left. Serve quickly. And that's all there is to it!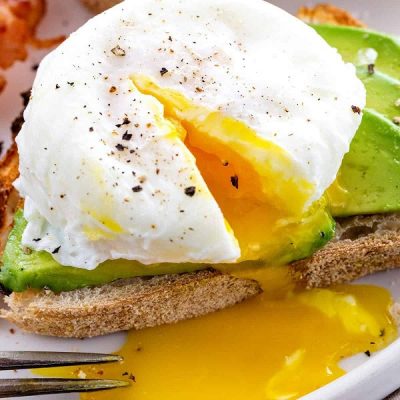 A perfectly cooked poached egg is a hard thing to beat. Our recipe will help you create a silky-smooth poached egg in no time. Served on hot toast with a crack of black pepper, it's the purest, most natural breakfast going. It can be a little tricky to get right, so we have some fail-safe rules to help you making perfect – see tips at the end of this guide:
 Prep Time:     5 minutes
 Cook Time:    3 minutes
 Total Time:    8 minutes
Ingredients
Instructions
Fill a wide casserole-type pan with boiling water from the kettle.
Bring to a light simmer over a medium heat and season with a pinch of sea salt.
Crack a large free-range or organic egg into a cup.
Gently pour the egg into the simmering water in one fluid movement.
You'll see your egg begin to cook immediately – don't worry if the edges look a little scruffy. A really soft poached egg should take around 2 minutes and a soft-to-firm one will need 4 minutes (it depends on the size of the egg and whether you're using it straight from the fridge).
To check if it's done, carefully remove your egg from the pan with a slotted spoon and give it a gentle prod with a teaspoon. If it feels too soft (use your instincts), put it back in the pan and give it a minute or so more to firm up.
When your egg is ready, remove it with the slotted spoon and place it on some kitchen paper to dry off.
Serve with hot toast and a sprinkling of sea salt and black pepper.
TIPS: Before you start, make sure you buy the freshest eggs possible. You can tell whether an egg is fresh by cracking it on to a saucer. If the yolk stands up and the white isn't watery, it's fresh as a daisy. It's also important you bring the water to a gentle simmer, but not boiling – if the water's too lively, your eggs won't cook properly.
Pancakes for Pancake Day, not that we need an excuse to savour this dish all year round, original recipe from us
Ingredients
110g plain flour
pinch of salt
2 large eggs
200ml semi-skimmed milk mixed with 75ml water
50g butter
Topping ideas
Lemon juice and sugar
Chocolate spread
Banana slices and cream
Fresh berries and greek yogurt
Maple syrup
Golden syrup
Peanut butter and Jam
Cheese and Ham
Leek mushroom and cheese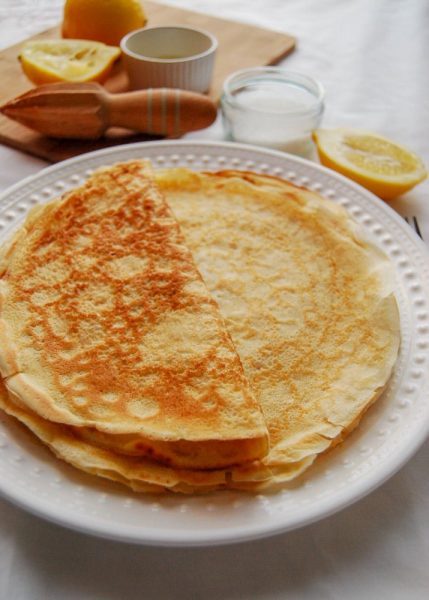 Instructions
Sift flour and salt into a large mixing bowl.
Now make a well in the centre of the flour and break the eggs into it. Then begin whisking the eggs using an electric whisk or a balloon whisk – incorporating any bits of flour from around the edge of the bowl as you do so. When the mixture starts thicken, gradually add small quantities of the milk and water mixture, still whisking (don't worry about any lumps as they will eventually disappear as you whisk).
When all the liquid has been added, use a rubber spatula to scrape any elusive bits of flour from around the edge into the centre, then whisk once more until the batter is smooth, with the consistency of thin cream.
Now melt the butter in the pan. Spoon 2 tablespoons of it into the batter and whisk it in, then pour the rest into a bowl and use it when needed to lubricate the pan, using a wodge of kitchen paper to smear it round.
Now get the pan really hot, then turn the heat down to medium and, to start with, do a test pancake to see if you're using the correct amount of batter. I find 1¾ tablespoons (35mls) about right