Eggs arrive direct from the houses, inspected, graded, packed, labelled and boxed…. ready to dispatch to our customers.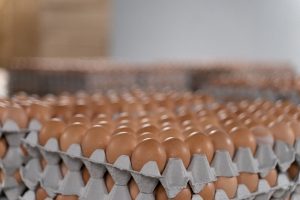 Having our own onsite packing centres ensures that eggs travel from hen to the packing station and can be out on the road to the customers within hours. This means that customers receive the freshest eggs on a daily bases, as no time is lost in transporting eggs and importantly lowering our carbon footprint.
To future-proof our business, we have recently invested heavily in packing technology to accommodate what has been the fastest growing protein food-source over the past decade. The technology in the packing station is the most up to date in the world. Our fully automated Moba grading machines enables us not only provide the highest standards of food hygiene and safety, it also enables us to grade eggs into different sizes offering products of small, medium, large and extra large
Internally managed transport delivering our products
Yaitzeprom has a team of drivers and therefore do not rely on outside transport support. We have our own fleet of vehicles, including lorry's and trucks, supplying across Bulgaria and into Europe. Through our modern distribution fleet we are able to deliver the eggs you want, when and where you need them, fully managed and all traceable providing better fuel economy with low emissions, achieving a lower carbon footprint.
We're always on the look-out for new customers, so please email info@yaitzeprom.bg if you'd like to discuss opportunities to work with us.